Splendor in the Dungeon!
by Mistress Kristen
First printed in Petticoat Power Vol. 1, No. 3 , 1982, as Michelle & Kristen Train Their Maids. (and Their was spelled Thier)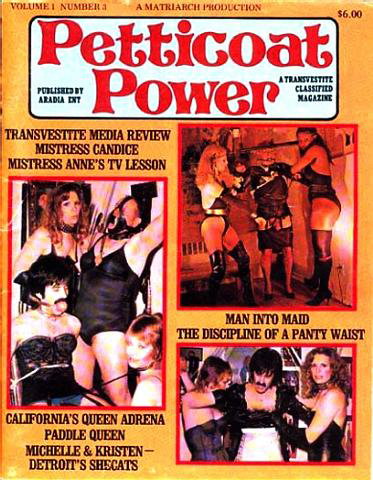 Mistress Michelle checked the last minute details.. Mistress Kristen would be arriving shortly, bringing her most favored Submissive TV.
Mistress Michelle made sure her own slave Leon, had well stocked the refrigerator with sparkling white wine, Perrier, tasty smoked clams and oysters, Brie and fruit. The fresh cut flowers in the crystal vase gave off a sweet, fresh scent. Yes it would be a perfect evening Mistress Michelle, with a quickening anticipation, thinking ahead of long hours of pleasure and sublime female domination. How she loves to hear the whimpers and soft cries of her captive slaves, their eyes wide and moist, full of mixed emotions of fear and excitement. Her mind drifted only to return to reality upon hearing the doorbell.
Mistress Kristen's arrival!
Mistress Michelle answered the door greeted with hugs and kisses from Mistress Kristen Both Women looked stunning. Michelle wore a pretty plum dress and sweater with black high heel boots. Kristen wore a short black leather skirt, black leather motorcycle jacket, deep rose crepe blouse with a plunging neckline, and black boots. Both looked regal, confident, composed, females.
Following behind Mistress Kristen, walking shyly, looking coy, was her submissive, Ron. Mistress Michelle looked him in the eyes in a very curious, probing manner. Ron immediately registered her strong gaze and looked sheepishly at her booted feet. "C'mon you sissy! Bring in my suitcase right now and help me with my coat and things." commanded Mistress Kristen to her submissive Ron.
"You have to tell them every little thing, every detail. They're so slow and forgetful." After putting away her bags and coat he dropped to his knees in the properly respectful pose of a truly submissive wimp. He respectfully kissed and licked each Mistress's boots at the motion of a downwardly pointed finger.
The two Mistresses had previously talked and planned their strategy in training Ron.
Ron becomes Ronnie in his female attire and the two women were anxious to further his feminine identity.
"You will serve both of us do only as we command, for our amusement and enjoyment. Your pleasure is of no consequence; however your punishment is of our concern depending upon your obedient behavior and our whims to have you suffer and feel humiliation. Do you thoroughly understand?"
"Mistress. please allow me to be your toy."
"Go into the dungeon and wait kneeling. Think of nothing but serving us and being a sissy. Under no circumstances are you allowed to touch your pee-pee."
"Yes Mistress" replied Ronnie who then exited to the dungeon.
Mistress Michelle led the way to the bedroom to lay out her dominant attire. She knew her dominant attire .She and Kristen undressed enjoying watching one another with curiosity and longing. Kristen thrilled to the touch of her dominant attire. She then chose the proper outfit to feminize Ronnie as they put on their dominant attire, they were both experiencing heightened sensual sensitivity. Mistress Kristen felt a shiver of chills run down her back as she and Mistress Michelle communicated with their eyes.
Mistress Michelle was dressed in her black leather corset garter belt, stockings, black leather spiked heeled boots, black leather gloves. Her earrings sparkled and highlighted her dramatic make-up and glittering eyes. Mistress Kristen wore her black severe push-up bra which thrust her heavy round breasts up and forward ; creating a lovely sight. MichelIe grinned seductively at her, licking her lips. Kristen pulled on her black lace garter belt, stockings, black high-heeled boots and G-string. Both grabbed their crops swishing them through the air, thinking of Ronnie's ass. They chose his TV attire laying it out on the bed, ready for Ronnie to happily jump into it at their command. They found him kneeling quietly.
"Go into the bedroom and put those sissy clothes right now! And get your ass wiggling back in here on the double" Kristen commanded...he jumped and ran. While dressing his heart raced and his fingertips caressed the silky, satiny things..
He came teetering back into the Dungeon on 6 in. black heels. Shiny blue stockings enveloped his shapely legs, held up by a plum satiny girdle, topped by a black lacy corset-style padded bra. Finally a French maids uniform. With gentleness and thoughtfulness he knelt and licked his Mistresses' booted toes and heels. All that was necessary was merely a downwardly pointed finger to powerfully command his obedience. "Go get us a snack and drink, and walk sexy. Wiggle that ass and be proud of your tits!, Stick 'em out." Mistress Michelle barked. Ronnie was back in a Flash with a tray of smoked clams, oysters, Brie, crackers and wine. The elegant ladies ate and drank while propping their booted feet on Ronnie's back, his head bowed low in servitude. Suddenly his posture slipped causing his Mistresses' feet to fall and spill their wine. "You Clod! You inept jerk! Get your ass up in the air for punishment" cried Mistress Kristen. Mistress Michelle nodded in agreement. "Michelle, please do the honors" offered Kristen. Michelle chose a paddle off the rack and swiftly smacked Ronnie's girdled covered ass.
"Count the strokes and thank your Mistress properly."
Whack, whack, whack whack...a dozen strokes in all. Firm punitive strokes.
"Th-thank you Mistress." Ronnie whispered, tears in his big brown eyes.
"I can't hear you slave!"
"Thank you for my punishment Mistress." he stated affirmatively.
Mistress Kristen noticed the growing bulge under his tight girdle. She stroked through it Squeezing playfully. Ronnie looked down ashamed.
His male flesh grew stiffer now straining against his feminine garments. Such a contrast!
The perfect blend of dual masculine-feminine sensuality; heated up by the musky aura of Female Domination. The sights, sounds, textures contrasts, colors and perfumed, smells all blended together in their consciousness. The essence of Bizarre Fantasy. The Mistresses faced one another their eyes met and held the gaze. Silently each knew that their power and skill merged into a fantastic spider's web of delight, a Black widow spider. Together they restrained Ronnie on the rack, binding his wrists in leather shackles chained to the rack frame.
Mistress Kristen tweaked his hairy nipples.
"Look how tiny they are. I want to make them grow like a real woman's breasts. I want you to be constantly aware of your Mistresses' breasts, by making yours suffer." She said. Mistress Michelle and Mistress Kristen both applied nipple clamps firmly, causing him to wince with pain. Remembering his previous punishment, Ronnie took his pain as bravely as he could, feeling embarrassed and proud simultaneously. He allowed his feelings to go deeper into consciousness. This is exactly what he dreamt of... at the mercy of two dangerously beautiful, towering, powerful, naughty Dominatrixes. And most of all, they were turning him into the slutty, whorish, sissy-wimp that all three knew he really was. Yes, flow with the fantasy, feel every possible feeling. Get deeper and deeper into his identity as their TV toy. His cock ached with a mixture of passion, shame, fear, humiliation, sensuality and anticipation.
"Look at this worthless lump of meat." said Michelle to Kristen. "It ought to be shoved up his ass so he can Fuck himself. That way we don't have to look at it's offensiveness"
"Before we get rid of it, let's torture it." suggested Kristen gleefully.
The mood was suddenly interrupted by the doorbell. Michelle answered the door to let in Leon, her slave. Upon seeing her in her attire of domination he swiftly dressed in his attire of submission, with no need for questions or hesitation. Slave Leon knew all too well to obey without question and whenever he arrived to find Mistress Michelle dressed to dominate, he assumed his role immediately. When they returned to the dungeon, they discovered that Kristen had removed Ronnie from the rack, and was teasing his now exposed cock with her leather covered fingers and a tiny cat-o-nine tails cock whip. His cock arched upward, a tiny wet drop oozing from the hole, his apparent frustration at not being allowed to stroke it, [furiously, always] caused him to groan softly.
While this was going on, Mistress Michelle put slave Leon into an extremely tight black leather body harness; then hoisted him up with a pulley. He was in complete suspension swaying slightly, breathing heavily through his constrictive black rubber mask.
Mistress Kristen left and returned momentarily. Under her garter belt she wore extremely tight rubber panties sporting a thick 10 in. dildo. It hung stiffly between her thighs, bobbing as she strutted in her boots showing off her newly grown big hard, hungry cock. She rubbed it against Leon's thighs then turned and forced Ronnie to suck it. "Suck me, suck my cock right now, like your life depends on it. "You've been very naughty haven't you? Playing with your pee-pee as much as possible, being sissy and a slut too huh?". She interrogated. All he could do was nod, his lips surrounding the rubber cock. Kristen thrust mercilessly.
Mistress Michelle began whipping slave Leon as he hung helplessly from his bondage of suspension. Meanwhile Mistress Kristen positioned herself behind Ronnie on his knees with his ass raised up.
She Probed his ass with her leering cock.
He struggled desperately, but was no match against his Mistress' powers. Mistress Michelle stopped whipping Leon and grabbed a handful of Ronnie's hair ordering, "Shake that ass against that dick show us what a fucking whore you are."
By now Mistress Kristen was getting so heated up that she had to remove her bra. Her luscious tits swung free ready for Mistress Michelle's lips and tongue to excite them more. The two gorgeous Dominatrixes soon forgot about their slaves and lost themselves within one another's sensitive caresses. All the while the two tormented slaves looked on with envy, humiliation and frustration. Their cocks ached at the pleasure so close to them, yet so distinctively, definitely separate from their fate as submissives.
Their Mistresses. Mistress Kristen and Mistress Michelle joyfully shared their rightful destiny in rapturous bliss and mutual erotic satisfaction. Over and over again they brought each other and themselves to orgasm using vibrators, dildos, fingers and tongues.
They released their slaves from their restraints to allow them to jerk themselves off while watching their impassioned Mistresses experience Splendor in the dungeon!
Mistress Michelle